The true revolution in laser welding.
LC WELD PRO is the latest generation of LC laser welding equipment. The LC WELD PRO laser welding machine is equipped with a gun designed exclusively by LC, ergonomic and comfortable for long working hours.  This model has a new 40% more efficient laser generator, which allows us to save energy and work more efficiently. LC WELD PRO has a new software system specifically designed for laser welding.
Laser welding allows working at high speed, making quality welds very quickly. The deformation of the material is minimal, as the heat input is very localized and reduced.
A completely new software allows us to work with user control at different levels, it has 3 work functionalities to adapt to each user, a technical help system in the same equipment and the possibility of controlling welding costs and obtaining statistics. The equipment can work with or without material input.
It is easy to use and does not require a great deal of experience on the part of the user. Other advantages we would highlight of laser welding: the possibility of working on small, detailed seams, eliminating the need for later polishing and minimal heat input.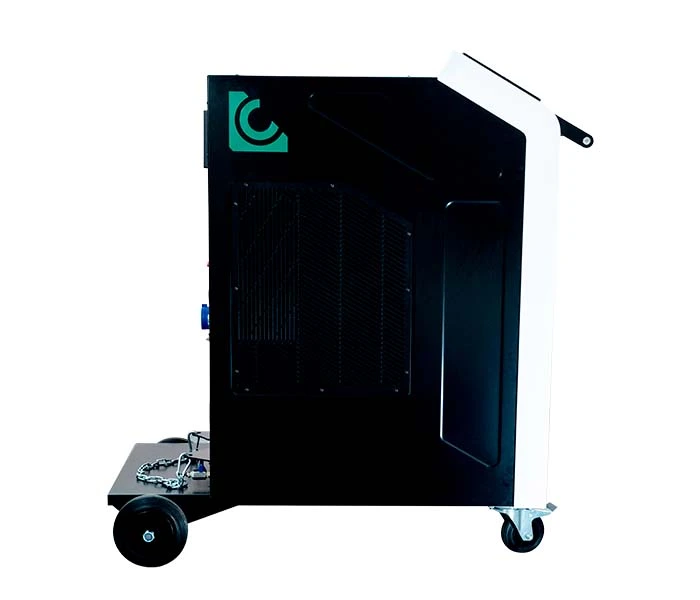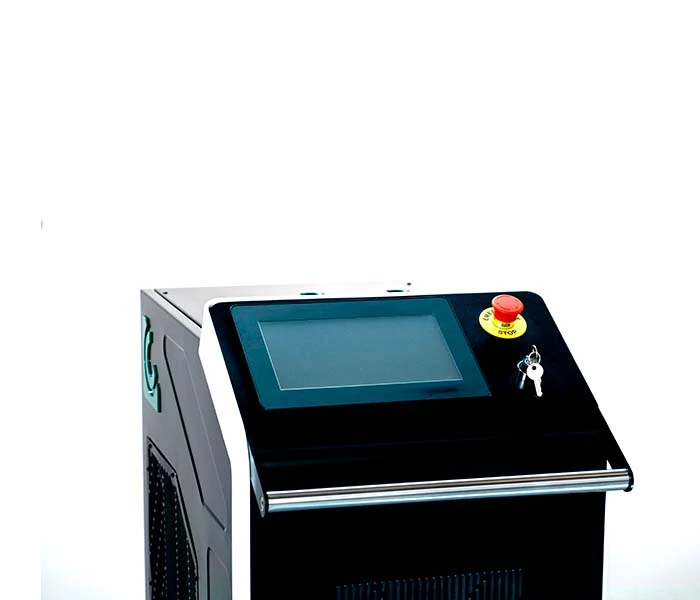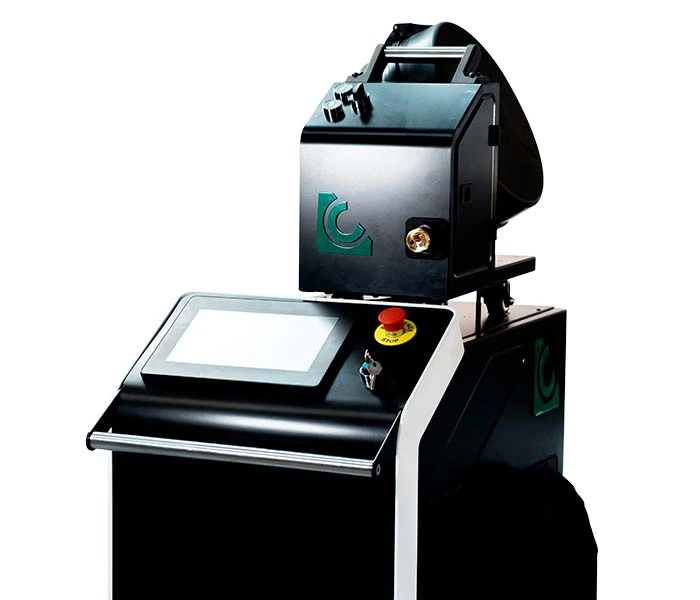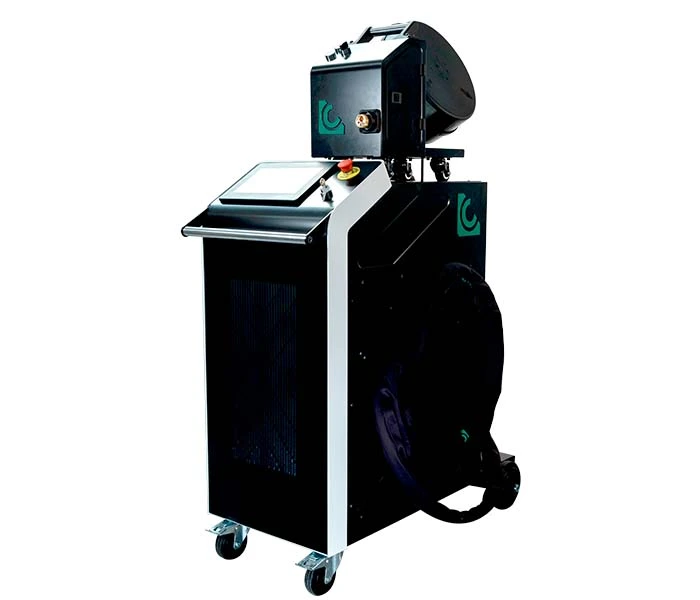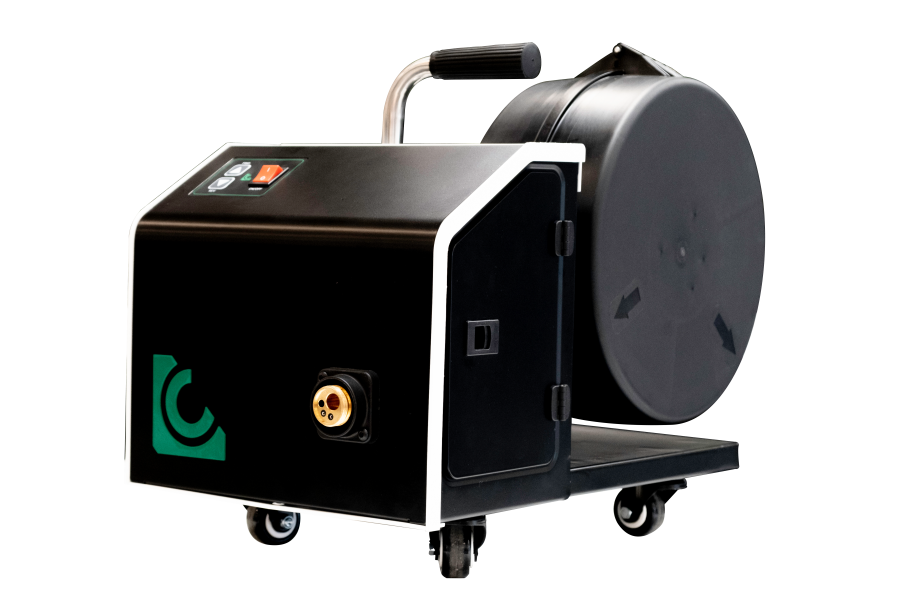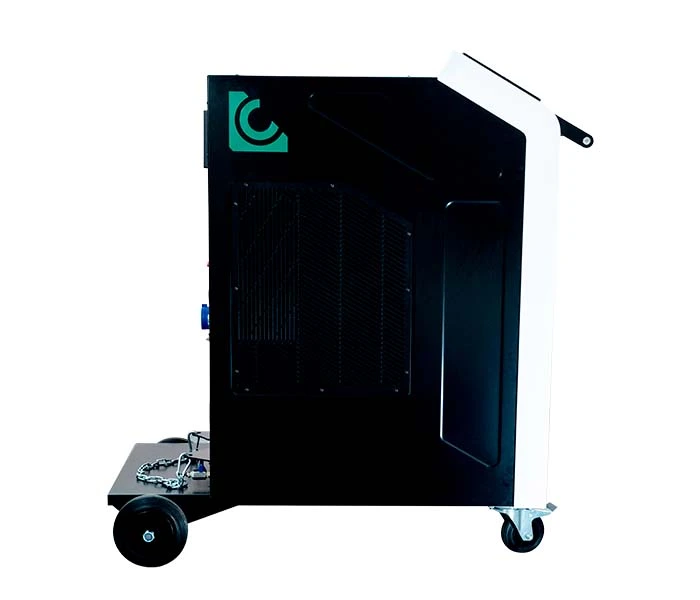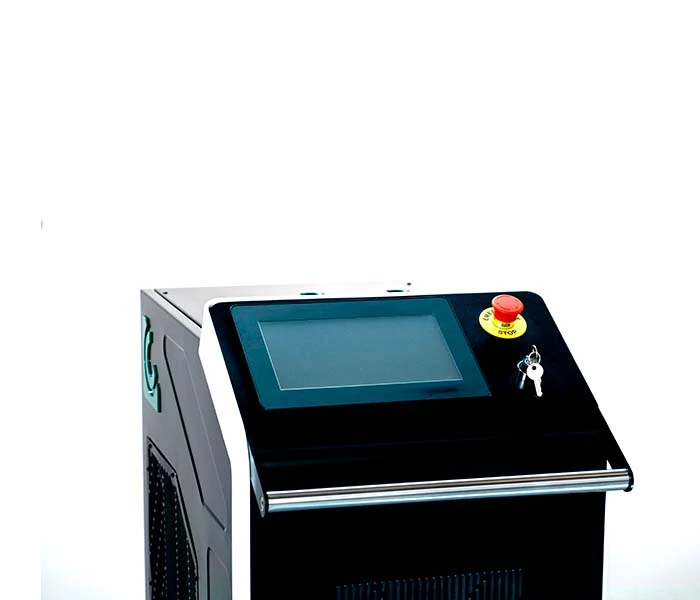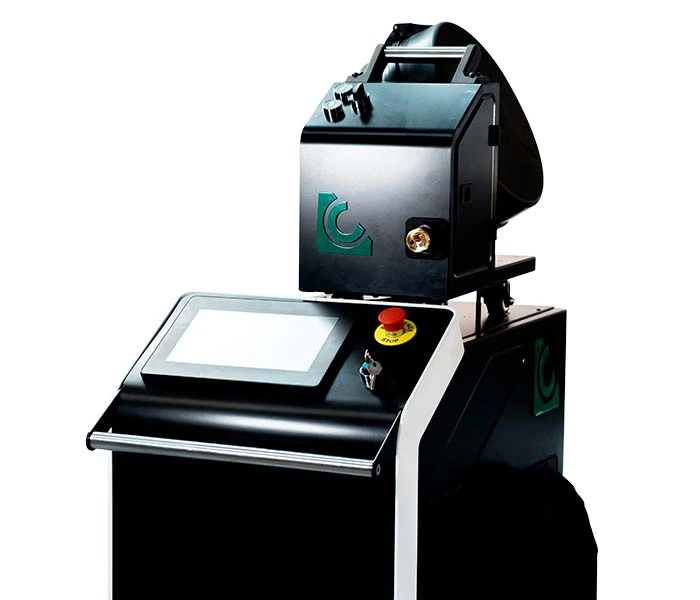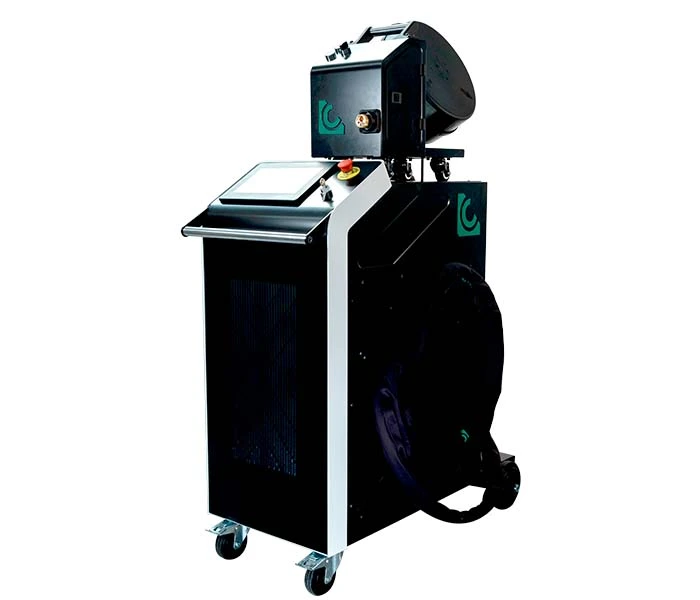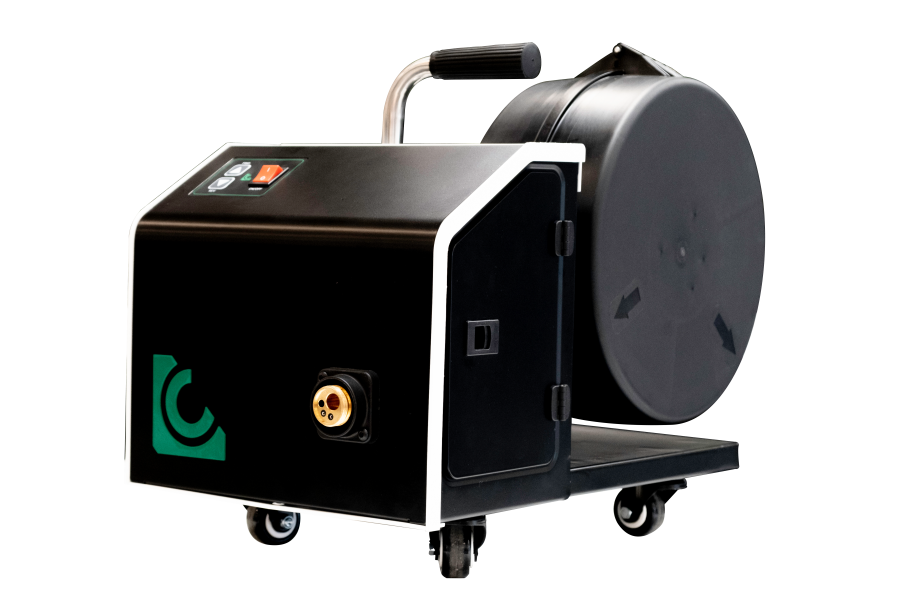 Parts and features of the laser welding machine pro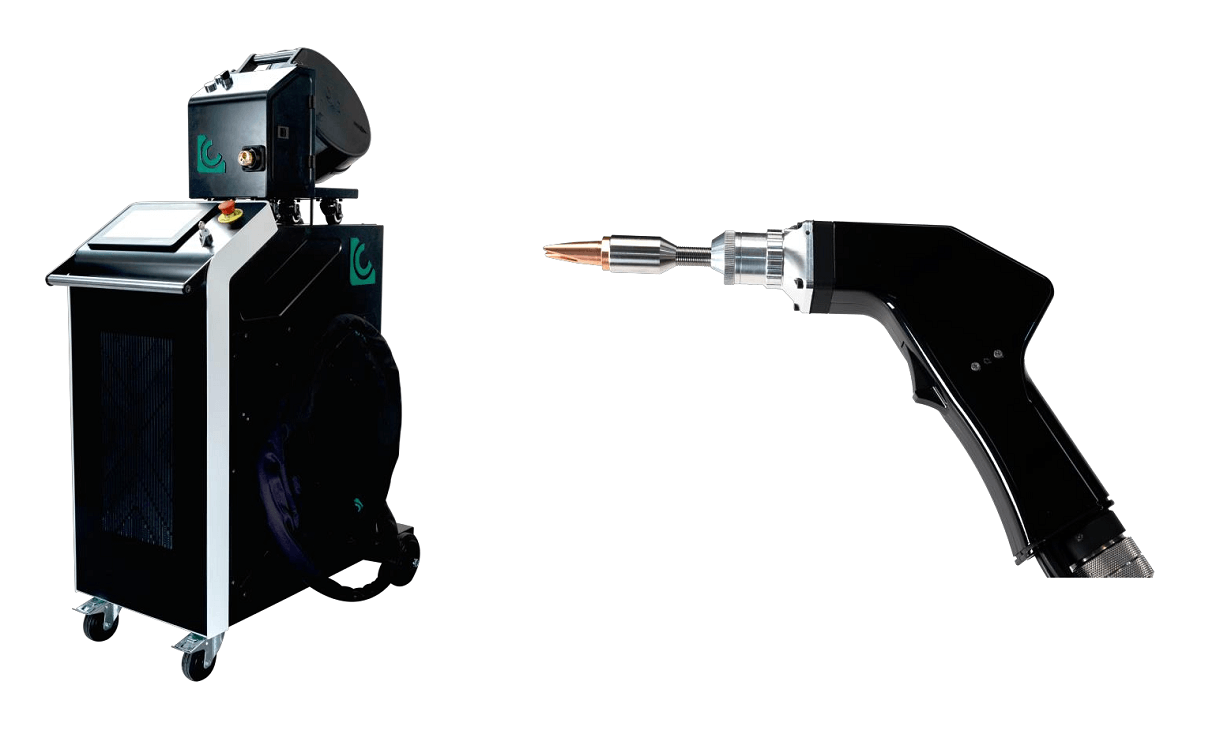 1. Touch screen:
A single touch screen to control the wire feeder and laser equipment. Software specifically designed for laser welding with 4.0 technology, remote control, job programming and the ability to save parameters and jobs.
2. Removable winder
Removable winder without the need of an external system. This winder is designed to work at low speeds, improving the performance of laser welding to obtain perfect results. It has an electronic board manufactured by LC.
3. Encoder motor and improved drag quality
Encoder motor of European manufacture. Winding machine adapted to laser welding.
4. Pneumatic wheels with brakes:
It facilitates the movement and transport of the laser welding equipment on flat terrain. It also has brakes that allow us to immobilize the machine.
5. Laser quality
The laser resonator produces the laser beam, which is directed to the pistol by means of a flex with a fiber optic cable.
6. In-house electronics
LC-designed electronics with proprietary firmware
7. Emitting laser light
Laser light emitting, galvanometric motors manufactured in the USA. Original design by LC
8. Improved running factor
Improved run factor for welding aluminum with material contribution efficiently and for a longer time.
9. Interchangeable nozzles depending on the job
The nozzles are copper fixtures that are used as tools and positioners for different types of welding. There are different types of nozzles, which can also be classified if they are for welding with or without fiber wire contribution.
10. Original LC design welding pistol
Galvanometric motors manufactured in the USA. Original LC design.
11. Laser cleaning option
With a nozzle exchange it is possible to work with laser cleaning with the same equipment. With this option we can clean welds.
Solutions of the laser welding machine pro
Advantages of laser welding machine pro
Option of cleaning welds with the same laser equipment by exchanging the nozzle.
Our machines integrate a type of laser that is specially designed for welding. In the variety of lasers that exist, LC knows which type of laser is best suited to the needs of our customers in the welding sector, so that we can guarantee the best quality in each job.
Removable wire feeder without the need for a new external system. Improved wire feeding quality. Feeder designed to work at low speeds and improve the performance of laser welding. Feeder motor with encoder.
Electronics developed by LC with its own firmware.
Own software developed by LC with different functionalities for laser welding: cost control, variety of configuration, videos and documentation in the same equipment, user management, among other options.
Own design with improved ergonomics. Improved running factor in aluminium. Incorporates indicator light when the laser is in emission.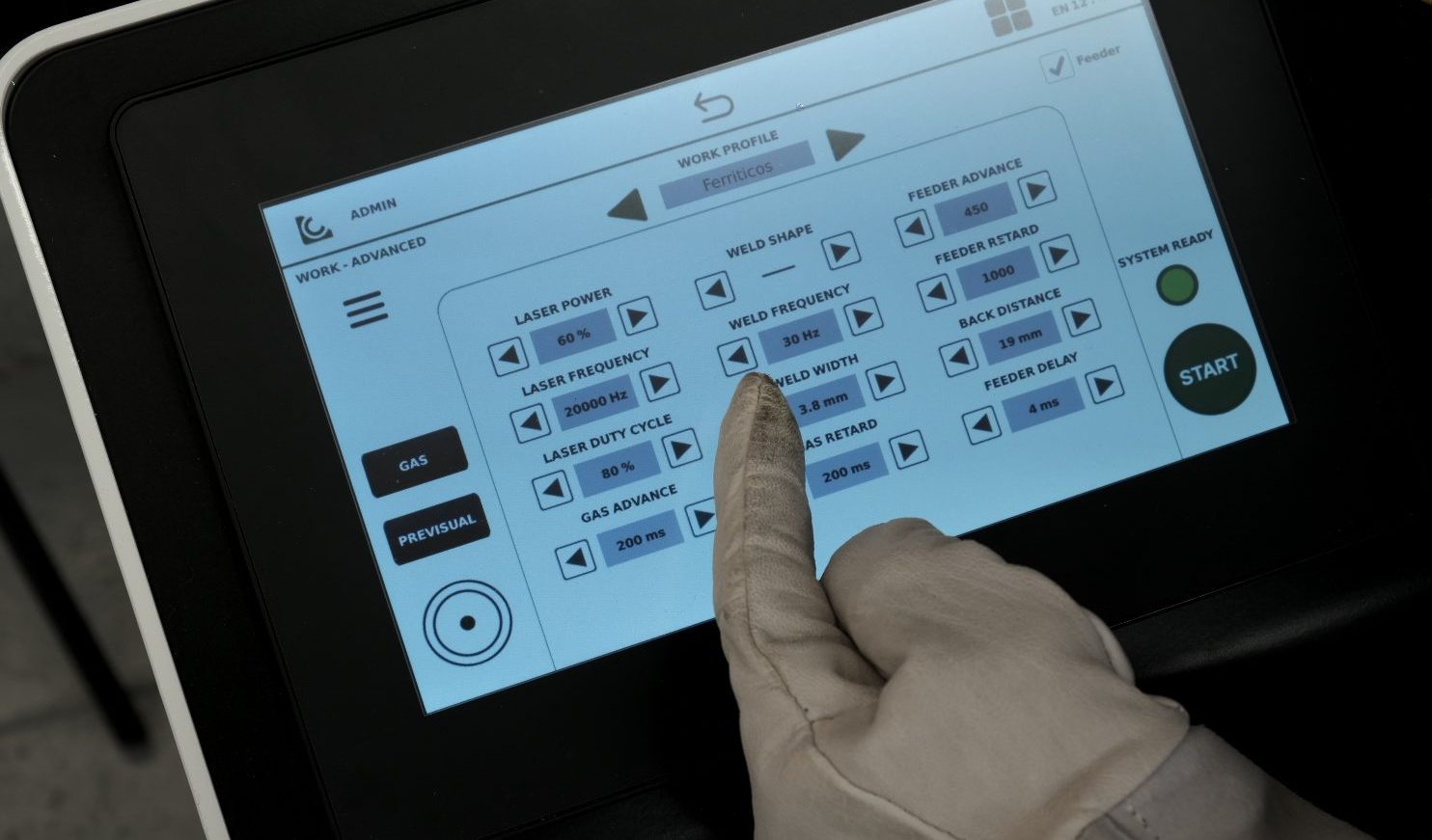 Intuitive and simple interface
Complete menu with simple and intuitive interface, easy navigation between functionalities.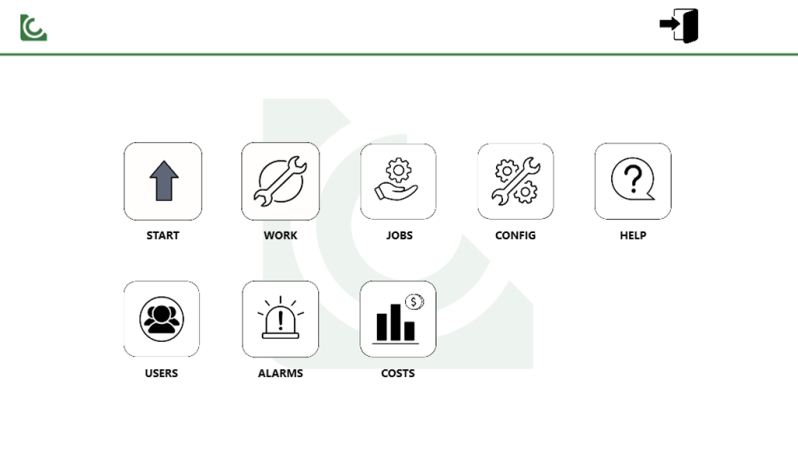 User control
LC WELD PRO allows us to establish different levels of users with different permissions, to adapt the work to each user.
Jobs and pending jobs configuration
Possibility of scheduling pending jobs and assigning them to user groups. We can obtain specific statistics for each job and team.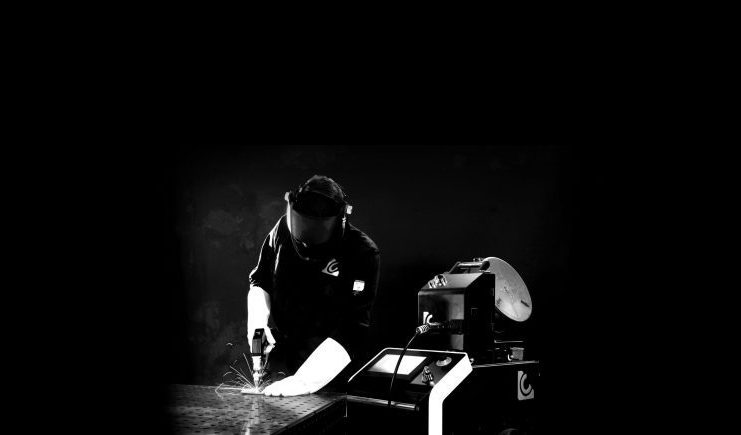 Saves parameters according to the job to be carried out
In the BASIC job, the equipment has parameters configured for different types of materials and thicknesses, but through ADVANCED we can save the parameters we want and create job profiles to recover them when necessary.
Two working levels: BASIC and ADVANCED
Depending on the user and our configuration, we can access two types of work when welding. BASIC work is based on parameters incorporated in the machine itself. The ADVANCED job allows us to configure the parameters with total freedom and save them if necessary.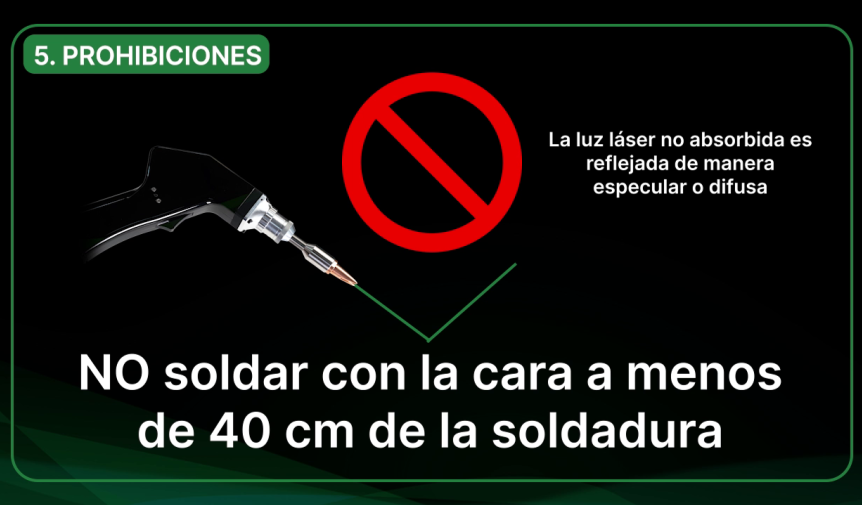 Video tutorials on the machine itself
The LC WELD machine includes video tutorials and documentation to answer questions quickly from the menu.
The manual laser welding equipment gives us the option of working with or without integrated wire input. It is easy to use and allows us to make very fine welds without losing strength or resistance.
This equipment is highly configurable to carry out different welding techniques and different materials with the same equipment. Very versatile equipment, we can weld different materials.
| | WELDING |
| --- | --- |
| Stainless steel | |
| Galvanised steel | |
| Aluminium | |
| Titanium | |
| Carbon steel | |
Available downloads
For more information about laser solutions, download our online catalogues.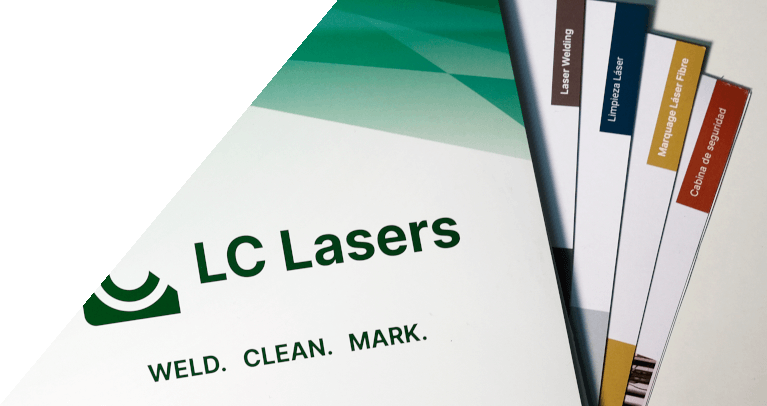 Contact
our sales
team now
We answer you in
less than 24 hours