All the quality of LC-MARK with an easy integration into production lines.
LC-FIBER PRO offers the possibility of integrating laser marking equipment into a production line. It is the perfect solution for the execution of permanent marking functions integrated into production lines and line productivity. All the quality of LC laser marking equipment brought to the integration of production lines.
The LC-FIBER-PRO allows us to perform an endless series of marking types, which will allow a quick and improved traceability. Some of these markings can be: Data Matrix, QR codes, logos, barcodes or even dynamic designs such as serial numbers, dates and times, combined with barcodes or text. The implementation of the different designs and images are carried out at a remarkable speed, which allows us to optimise the processes within the production line. The equipment is designed for laser marking of different materials such as aluminium, stainless steel, PVC, among others. With this type of laser equipment, we avoid using glues and inks, and we can obtain permanent marks of great quality and detail quickly.
They incorporate a fiber laser together with "Galvo" technology, allowing us to work at an impressive speed. The industrial fiber laser marking machine has small and manoeuvrable heads adaptable to each case and each industry.
The laser equipment has different types of connection and an integrated software of easy operability. LC offers a short-term solution adapted to the specifications of each client.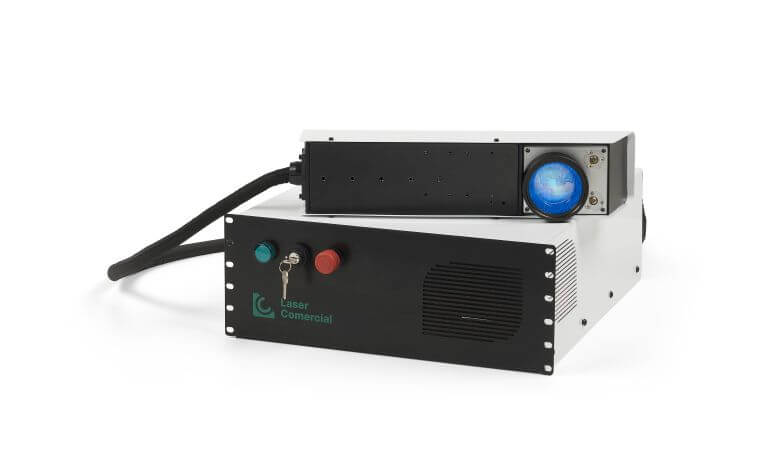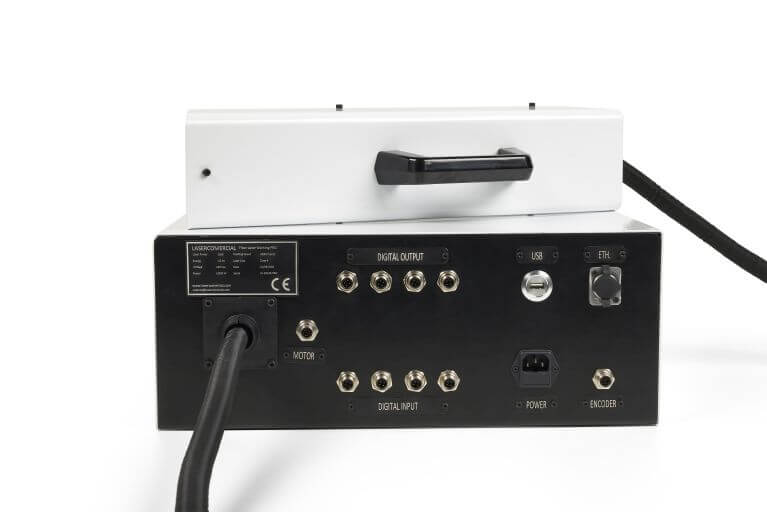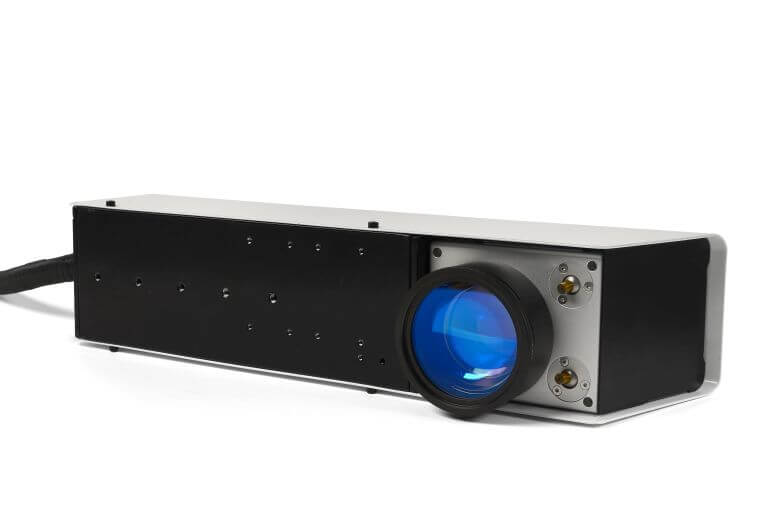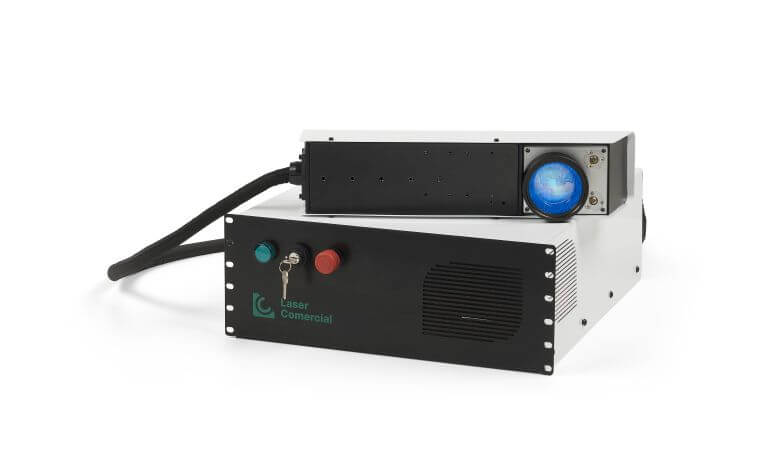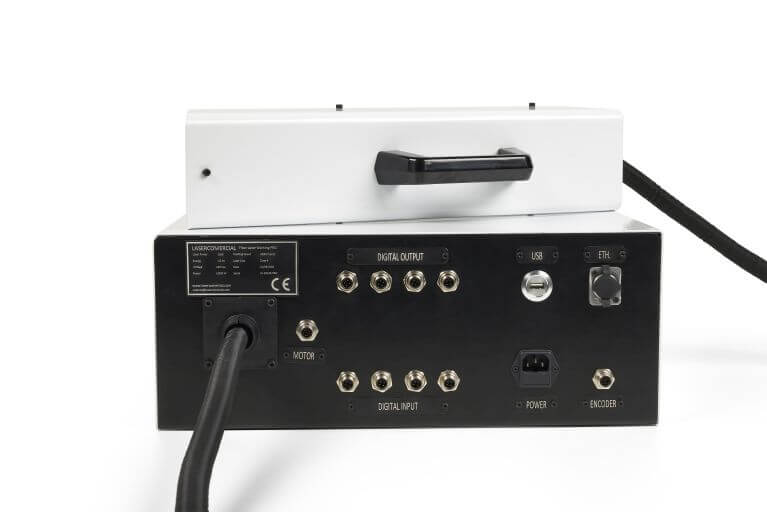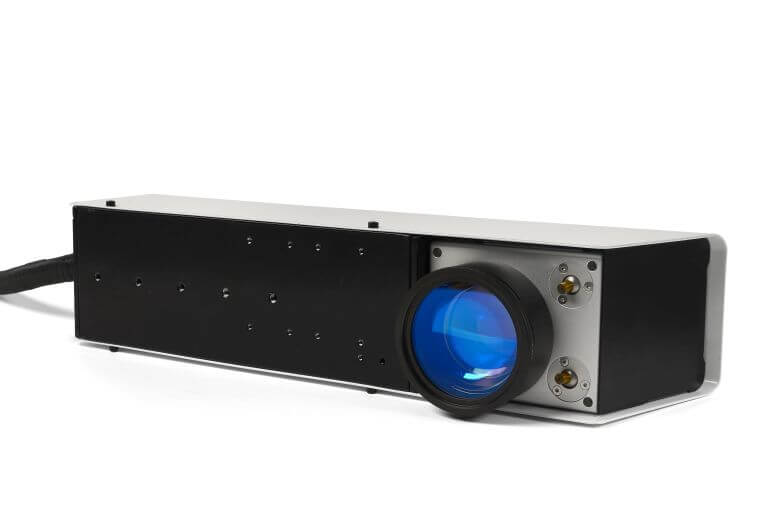 Parts and features of the industrial fiber laser marking machine








Laser resonator
The laser resonator produces the laser beam, which is directed to the head by means of a flex with a fiber optic cable. There are different types of power, where the most common is 20W, 30W and 50W.
Maneuverable Galvo head
The galvanometer head is used to direct the laser beam to the desired position. It consists of two small mirrors that rotate at very high speed and bounce the beam to send it to different positions.
Communication system
It consists of a 100Mbits ethernet connection and USB connection. It allows us to increase the efficiency, flexibility and adaptability of the machine in various industrial environments.
Key-operated opening and emergency shutdown
The LC-MARK PRO features a high security on/off system. The opening system with a security key and emergency shutdown switch.
Digital inputs and outputs
The LC-MARK PRO has 4 digital inputs and 4 isolated digital outputs. It allows us to receive external signals and output signals from the system to external devices.
Complete and easy to use software
We have an easy and intuitive software, with a clear user interface that allows a simple and fast navigation. On the other hand, it has its own graphic editor, but with the possibility of importing files from other programs.
Stand Alone function
The industrial laser marking machine, has the possibility of automation and full integration of the machine through a process control solution that can integrate laser marking projects with all functions. Offering higher performance and process optimization.
Solutions of the industrial fiber laser marking machine
It allows us to adapt laser marking systems and incorporate them into production lines. We can make fast and legible markings on a surprisingly large scale.
Advantages of industrial fiber laser marking machine
The LC-FIBER PRO model is a state-of-the-art laser marking range designed for easy integration into production lines for processing different materials.
The LC-MARK PRO allows a preview before marking, so that any errors in the position of the part can be corrected quickly and easily. This option reduces the error rate during the marking process on production lines.
Cutting of laser projects into smaller parts to fit the workspace and automated processing with integrated control of motion drives.
Easy communication with other devices and signals via digital inputs and outputs. The software also allows you to configure the order and make your own system.
The LC-PRO laser marking system allows communication for encoders to monitor the marking according to the speed of the production line.
This function allows the program to be incorporated into the controller board and thus avoids having the unit connected to a computer all the time.
Our industrial fiber laser marking equipment has an integrated and complete software for all types of management and functions. The software has a graphic editor or, if you prefer, you can import your files from other programmes in different formats to mark the desired design.
Manufactured exclusively for integration into production lines or automated systems. Integrates a laser system in all kinds of situations.
LC-MARK PRO is designed for easy integration into production lines.
It offers the option of marking codes: Data Matrix, QR codes and barcodes or read codes. Text and images can also be marked at high speed and different designs can be implemented.
By means of laser marking technology, we offer a solution for a correct traceability within the company.
| | ENGRAVING | CUTTING | MARKING |
| --- | --- | --- | --- |
| Stainless steel | | | |
| Carbon Steel | | | |
| Aluminum | | | |
| Copper | | | |
| Gold | | 50W | |
| Silver | | 50W | |
| Acrylic Painted | | | |
| Spray on Glass | | | |
| Spray on Glass | | | |
Available downloads
For more information about laser solutions, download our online catalogues.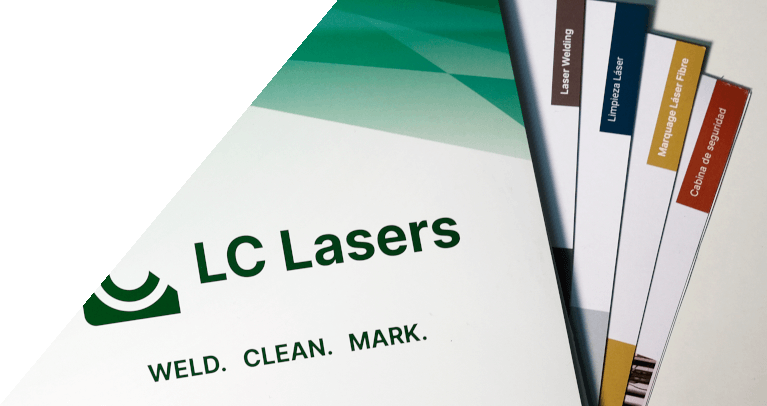 Contact
our sales
team now
We answer you in
less than 24 hours